Little stands between US and untreatable Gonorrhea
Published on 04/20/2020
"Antibiotics have successfully treated gonorrhea for several decades; however, the bacteria has developed resistance to nearly every drug used for treatment."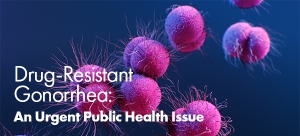 Over 800K new infections occur in the US annually. Many infected people don't show symptoms; hence over 50% are not reported to CDC.
Gonorrhea has progressively developed resistance to the antibiotic drugs commonly used to treat it complicate the ability of providers to treat gonorrhea
It is critical to continuously test and monitor antibiotic resistance in Neisseria gonorrhoeae and encourage research and development of new treatment regimens.
Published in the following categories: Infectious Disease CDC STI Clinical AMR