InPouch TV was like a spaceship from another planet for me…
Published on 04/02/2021
Read the first-hand account of how a Ukrainian company was able to increase their diagnosis efficiency so significantly, they decided to partner with us in order to bring better culture diagnostics to their entire region.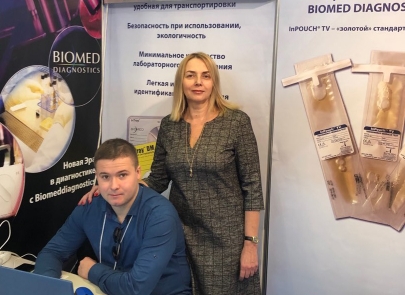 Photo: Irina Serenko and Anton Vakulenko at The International Medical Forum (IMF) and Exhibition
by Irina Serenko, Scientific Consultant - Rybakova Anastasia Anatoliyevna
Our first acquaintance with the products of Biomed Diagnostics took place back in 2003. It was then for the first time I held the InPouch® TV test in my hands. I remember my first impression of what I saw — and the first thing that struck me was the appearance of the medium, compared to our standard diagnostic media (glass tubes with cotton plugs).
InPouch TV was like a spaceship from another planet for me…
Before our meeting with Biomed Diagnostics, we consistantly experienced difficulties with diagnosing trichomoniasis and gonorrhea. The patient would have clinical symptoms and complaints, but the results of laboratory tests would be all negative. Using the Biomed tests allowed for the easy identification of the pathogen, getting positive results in the samples, and confirming the clinical diagnosis. When our earlier percentage of trichomoniasis detection was at 1 - 2%, now using InPouch TV we have 38-44% of the detection of the pathogen, depending on the concentration of the sample.
We have come a long way in our implementation, certification, registration and legalization of all necessary permits and documents for the use of these tests in Ukraine. Using Biomed's culture diagnostics, we are now able to offer:
Our patients: high-quality and reliable diagnostics,
Our doctors: safe working conditions, and easy to use highly specific and sensitive diagnostic tests
Our laboratory assistants: convenience in work - all techincal stages of the analysis are collected on the one plate, when working with tests, multiple passes and reseeding are not required.
Education: We regularly conduct educational trainings, conferences for doctors, where we demonstrate the advantages and high diagnostic value of our tests.
This really is the "gold" standards for bacteriological analysis in the clinical laboratory, due to the high degree of safety.
---
Over the years, with the help of Biomed, we have assisted hundreds of thousands of patients to receive the correct diagnosis and accordingly, adequate treatment.
On this path, we have always felt the sincere support, help and professional assistance of the company's employees. We are very grateful and appreciative to everyone who was and remains with us - Ravi Vinayak, Chris Troutman, Stephen Chamberlain, Brandon Font, Shelina Nelson, Barbara Hurd, Michelle Hastings and many more employees of Biomed Diagnostics, who helped before and are helping now, fully support us throughout the many years of our fruitful cooperation.
Rybakova at The International Medical Forum and Exhibition in Ukraine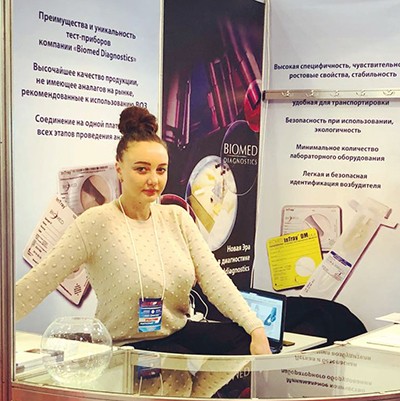 Anastasia Rybakova, Founder and CEO prepares for the opening of The International Medical Forum (IMF) and Exhibition in Ukraine .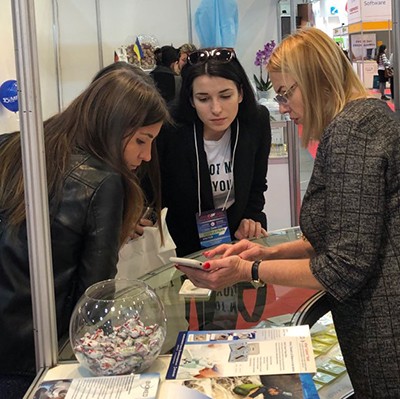 Irina Serenko, Rybakova's Scientific Consultant, demos Biomed's tests to students after an event lecture .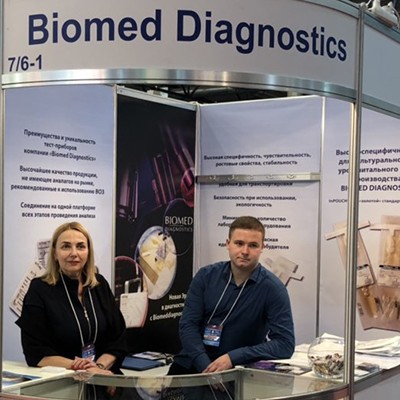 Scientific Consultant Irina Serenko and Rybakova's irreplaceable manager Anton Vakulenko. Anton has been working with Irina for about 10 years. He came to her diagnostic center after graduating from medical college when he was 17 years old.
Published in the following categories: Infectious Disease STI Clinical Education Trich AMR