Celebrating Health as a human right – equal for all.
Published on 04/03/2019
The growing social and economic empowerment of women around the world has given focus to women's health issues, specifically to reproductive health and sexually transmitted infections.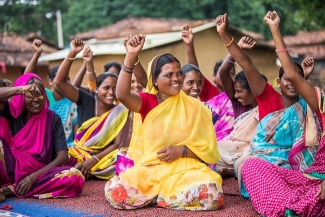 Each year, over 143 million women develop Trichomonas Vaginalis [1], one of the most common sexually transmitted, non-viral infections. There is strong evidence that TV increases both transmission and acquisition of HIV among women and is associated with a higher incidence of cervical cancer. [2]
TV infections are very easily detected and treated with medication that is safe, even during pregnancy. Because this infection often presents without symptoms, regular screening is critical to effectively treat and prevent the spread of the disease. Trichomoniasis infection in pregnant women puts the fetus at risk, causing low birth weight, pre-term birth, and a study found in the U.K. found that the infection was associated with a 3.5-fold increase in miscarriage risk during weeks 13-15 [3].
Prevalence of the infection is much higher in communities where women are socio-economically disadvantaged — particularly in rural India and Africa, where incidence of infection can be 30-50% higher than in developed countries.
Accurate diagnostic tests for STIs are widely used in high-income countries; however, in low- and middle-income countries, these tests are largely unavailable, expensive or geographically inaccessible. Patients frequently experience long wait times and need return to receive results. As a result, follow up is difficult or impossible, and the treatment of the infection incomplete.
There is also often a strong social stigma associated with diagnosis and/or treatment of genital infection. Women may not seek treatment for fear of the stigma disease will cause.
Many health and humanitarian organizations, such as the WHO and CDC, and Dr. Seema Sood [4], at the All India Institute of Medical Sciences are working diligently to establish programs around the world, for screening, treatment and education for women around STI's, with a focus on TV.
Biomed Diagnostics developed InPouch® TV to tackle this global issue in women's health care — with a mission to provide viable point-of-care testing for TV in low resource settings -- tests that provide easy accurate detection to accelerate diagnosis and treatment.
InPouch TV is selective for detection of Trichomonas Vaginalis, has extended 12 month shelf life, and requires no refrigeration. A microscope with 10x magnification is all that is needed; as InPouch is placed directly on microscope stage. No re-plating reduces exposure, contamination, and materials — and the accurate and rapid detection make this test ideal for low resource settings.

---
InPouch TV's prepared media is now widely known as the gold standard test for Trichomonas vaginalis. Read more about it, access research papers, download instructions for use, and view product videos by clicking here ►


[1] www.who.int/en/news-room/fact-sheets/detail/sexually-transmitted-infections-(stis)
[2] www.ncbi.nlm.nih.gov/pmc/articles/PMC3748151/
[3] www.aiims.edu/en/highlights-of-year-2010/102-microbiology/2300-dr-seema-sood.html
[4] British Medical Journal, Dec. 7, 2002 • Phillip Hay, MDBS, FRCP, senior lecturer, department of genitourinary medicine, St. George's Hospital Medical School, London, UK • Mark Klebanoff, MD, director of the National Institute of Child Health and Human Development's Division of Epidemiology, Statistics, and Prevention Research.
Published in the following categories: CDC Clinical Infectious Disease NGO / Humanitarian STI Trich WHO