InPouch® TF-Bovine
Specifications
Product Principal

Combined collection, culture, result and microscopic observation in one device.
Highly selective prepared media in a device designed for specimen transport and incubation.
Rapid presumptive-positive diagnosis.
InPouch can be placed directly on microscope stage
Recommended as a parallel test with other POC rapid tests.

Simple Convenience

InPouch is designed for specimen collection / inoculation at point-of-care
Saves time, material cost and waste, reducing exposure to collected sample
Place directly on the microscope tray for observation
Selectively allows for growth and observation for trichomonads

Accurate Detection

TF medium is known to be effective in preserving T. foetus, T. suis, T. galliniae and P. hominis.

Time to Result

Incubate the pouch vertically at 35-37°C for up to 6 days. InPouch TF is designed for safe transport, if needed. Inoculated InPouch TF tests should be transported within 48 hours after inoculation and maintained at 15-37°C.

Storage

InPouch TF - Bovine has a shelf life of 12 months from the date of manufacture.

Do not refrigerate or freeze InPouch TF tests. Upon receipt, store at 18-25°C horizontally, away from direct sunlight. Do not use expired tests. Do not use an InPouch test if the liquid appears to be cloudy, leaky, dark brown or dried.

Specimen

Vaginal swab | Distal penile swab
Features and Benefits
Shelf-life and durability
Designed for field-based testing and point of care uses, or for extended 12-month storage.
No wet mount needed
Designed for specimen collection/inoculation at point-of-care, a fully enclosed system for transport, incubation, result and microscopic observation.
Key Features
Nutritive culture medium, formulated for selectivity and specificity
You'll immediately experience a reduction in:
Time-to-result
Cost of laboratory materials
Medical waste
Risk of exposure or contamination
Articles and Whitepapers
VIDEO: Testing Bulls for Tritrichomonas Foetus
by: Kansas State Veterinary Diagnostic Laboratory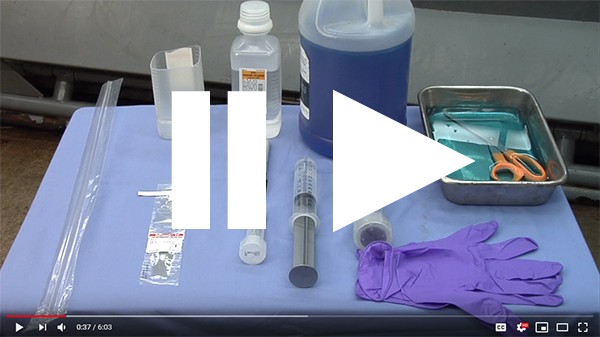 Trichomoniasis Prevention: The Cost per Cow to Prevent ►
Ultimate Approach to Eradicate Bovine Trichomoniasis ►
Seeking Harmonization of Trichomoniasis Regulatory and Testing Standards ►
Regulatory
⚠ WARNING: This product can expose you to chemicals including including Iron Dextran and Chloramphenicol, which is known to the State of California to cause birth defects or other reproductive harm. For more information go to P65Warnings.ca.gov.