get quick and accurate Trich results
with Biomed's Autumn sale on Trichomoniasis tests

Trichomoniasis has a devastating impact on your herd. There is no treatment for Trich-infection — the key to herd health is prevention: testing all the bulls that will have exposure to your cows. With the current economic stresses on cattle producers, it's more important than ever to get quick and accurate detection of a trich infected bull. InPouch® TF Bovine and the TF Transit Tube are engineered to be extremely easy to use, and to provide highly accurate detection.
Take advantage of Biomed's once a year November sale

---
InPouch TF Bovine and our PCR compatible TF Transit Tube — each with long 12 month shelf life*.
Buy $1000 and save 8% on your order
Buy $4500 and save 10% on your order
Buy $6000 and save 12% on your order

Order today ►
(Via your online account. Don't have one yet? Create your account here)
Or call 800.964.6466 to order** by phone.

---
Biomed's Trichomoniasis Bovine test provides long shelf life, ease of use, and accuracy.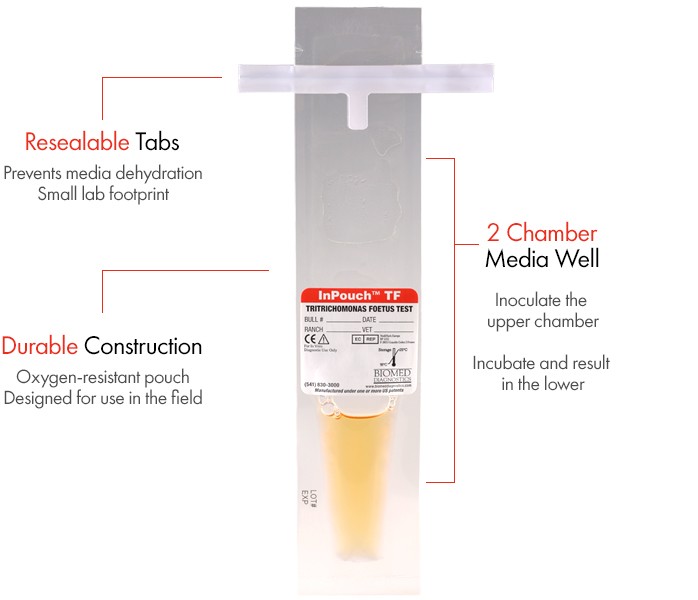 Self-contained trich test
Easy inoculation and transport from the field
Faster results, with culture growth during transport
Highly selective for trich growth
Incubate directly in InPouch
Direct microscopic observation of organism within InPouch
PCR compatible
Orders may be combined with other veterinary diagnostic tests to quality for discount.
View all Biomed's Veterinary Diagnostics Tests ►
---
* 12 month shelf life from the date of manufacture
**Order discounts have a maximum dollar amount of $6,999