Trich testing made simple
with Biomed's Autumn sale on Trichomoniasis tests

Trichomoniasis is a disease that can sneak into a herd undetected. Often times, a producer may notice cows returning to heat when they should be pregnant, or a high percentage of open cows after the breeding season.
This sexually transmitted disease is caused by tiny protozoa that inhabit the reproductive tract of cows and the sheath of bulls. It occurs most often when ranchers introduce untested bulls, purchase open cows with unknown background (that might be carrying this disease), or when cattle herds co-mingle.
A cow infected at breeding does not get sick, but the infection in her reproductive tract kills the developing embryo or fetus within the first weeks or months of gestation. The cow returns to heat and might get bred again, but generally does not settle until she clears the infection. Her reproductive tract usually recovers after two or three more heat cycles. By then the bulls may have been taken out of the herd. Thus, this disease results in open or late-bred cows, reducing next year's calf crop.
Research scientists agree it's wise to test bulls before or after breeding season, especially in community pastures. Even with a closed herd there is still risk of disease if infected cow or bull from a neighboring herd comes through the fence.
Community pastures where multiple herds are commingled are among the highest-risk situations for Trich to be passed from infected bulls to cows, and then from infected cows to other bulls. However, cattle mixing between herds due to fence line problems can also lead to herd outbreaks.
It is difficult to eradicate this disease. In spite of the fact that most western states have  requirements for testing, Trich continues to show up. Most western U.S. states require testing of bulls prior to sale
The first, most robust and economical IVD designed specifically for bovine trichomoniasis, InPouch® TF is known as "The Gold Standard" diagnostic for this STI. The proprietary medium of InPouch TF is selective for the transport and growth of T. foetus and increases specificity by inhibiting the growth of yeasts, mold, and bacteria.
Take advantage of Biomed's once a year November sale for easy to use, rapid, low cost, accurate results.
---
InPouch TF Bovine and our PCR compatible TF Transit Tube — each with long 12 month shelf life*.
Buy $1000 and save 8% on your order
Buy $4500 and save 10% on your order
Buy $6000 and save 12% on your order

Order today ►
(Via your online account. Don't have one yet? Create your account here)
Or call 800.964.6466 to order** by phone.

---
Biomed's Trichomoniasis Bovine test provides long shelf life, ease of use, and accuracy.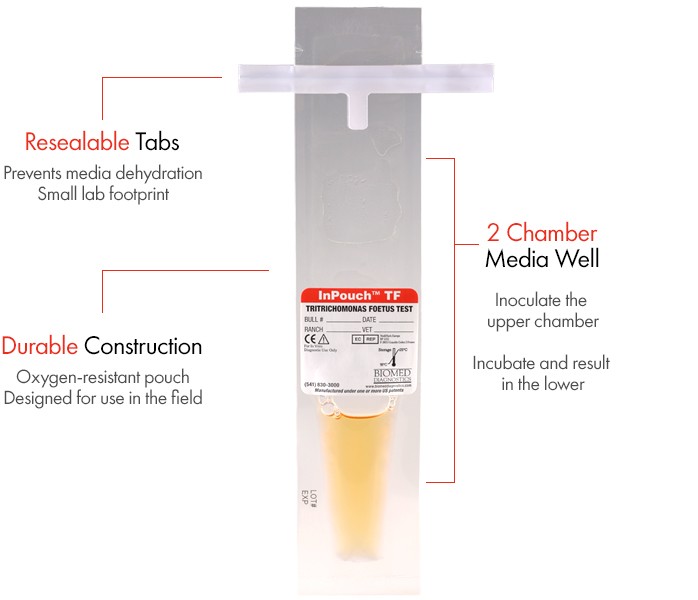 Self-contained trich test
Easy inoculation and transport from the field
Faster results, with culture growth during transport
Highly selective for trich growth
Incubate directly in InPouch
Direct microscopic observation of organism within InPouch
PCR compatible
Orders may be combined with other veterinary diagnostic tests to quality for discount.
View all Biomed's Veterinary Diagnostics Tests ►
---
* 12 month shelf life from the date of manufacture
**Order discounts have a maximum dollar amount of $6,999